Elämyksiä datasta 14.9.-8.10.2018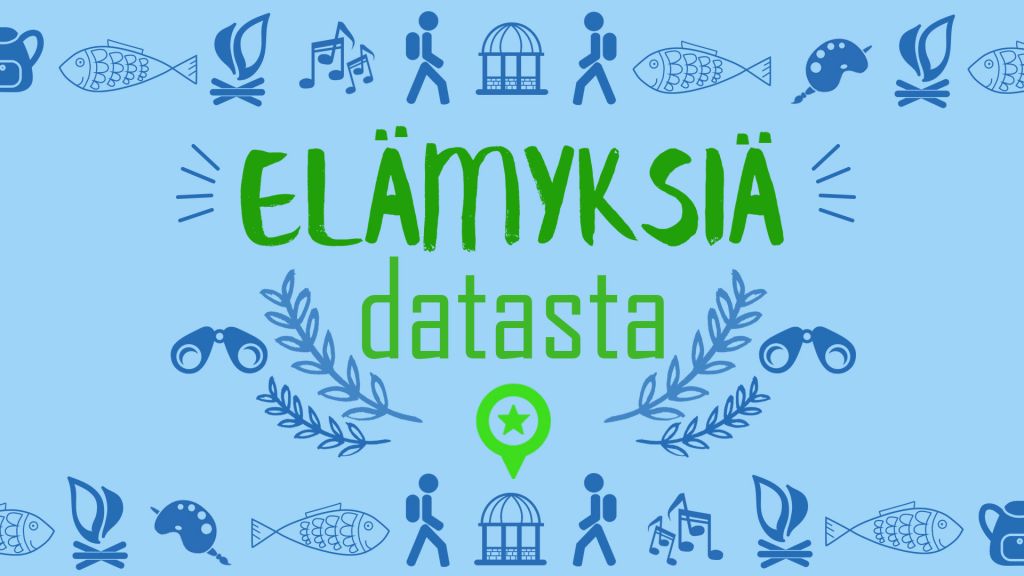 The University of Turku, Lounaistieto and Valonia will organise an open data competion 'Elämyksiä datasta' in Fall 2018. The competitors will explore the possibilities to develop cultural and recreational activities as well as local travelling by leveraging readily available open data. The organisers will provide the competition teams with a set of existing challenges, but you can come up with your own relevant idea as well. The best teams will be rewarded with prizes and all students will receive study points from participation. Additionally, the competitors will meet potential recruiters and other experts interested in open data.
Launch event:
Time: Friday 14th of September 2018 from 2PM to 4PM at SparkUp Turku (Tykistökatu 4b, Turku Science Park, ElectroCity, 20520 Turku)
*Please note that some presentations may be given in Finnish, but we will provide a translation to foreign participants after the event.
Introduction:
13:30 Coffee
14:00 Competition background and goals – Mikko Vermanen (University of Turku) and Sara Tamsaari (Lounaistieto)
14:10 Introduction to open data and the available data sources – Sara Tamsaari (Lounaistieto)
14:20 Open data from the 'Virkistä dataa!' project – Niina Ruuska (Valonia)
14:30 Deployment of open satellite data – Carlos Gonzales Inca (BalticSatApps, University of Turku)
Challenge presentations:
14:40 The sponsors present their competition challenges (10 minutes for each challenge)
Launch:
15:30 Competition rules and practicalities – Mikko Vermanen (University of Turku)
15:45 Team forming, challenge selection and registration – Mikko Vermanen (University of Turku)
16:00 Official program ends. Free discussion (Competitors, sponsors and organisers)
After the official program you will also be able to learn about utilising virtual reality in travelling at CTRL Reality's booth – Kaapo Seppälä (CTRL Reality)
Example challenge areas:
Examples of the available challenges:
-Developing the findability of cultural and recreational events
-Enhancing the availability of traveller support information
-Utilising collected customer data in service development
-Gamification of culture and travel experiences
Examples of open data can be found behind the following link: https://docs.google.com/spreadsheets/d/1kKCjLY574ZP88ShdLmBeNNB0DZ0wsVpYTNIWVgsX8rs/edit#gid=0
See the sponsor and organiser challenges here.
Prizes:
A cash prize of 1000 euros and competition themed gift cards will be shared among the best performers.
Competition work judging criteria:
-Novelty: Is the solution innovative and does it offer significant added value?
-Feasibility: Can the solution be realized using the technologies currently available?
-Usability: Are the benefits easily reachable from the end user point of view?
-Commercial potential: Can the solution be commercialized and what are its benefits for producers and buyers?
-Degree of open data usage: How efficiently has open data been leveraged?
Organizers:
University of Turku, Lounaistieto/Varsinais-Suomen liitto, ProAgria, Valonia and Avoin Satakunta.
Challenges, prizes and support to the competitors will be provided by our sponsor organisations, including Turun alueen Viheryrittäjät ry, Turku Science Park Oy, Valonian Liikkumisen ohjaus -hanke, Satakunnan Matkailuyrittäjät ry, Aurajokisäätiö, Varsinais-Suomen liitto, Turku Game Hub, Varsinais-Suomen museot ry sekä Turun museokeskus.
Promotional material:
Flyer for competitors
In collaboration: